2013 News You Can Use
---
December
There's a New Bug in Town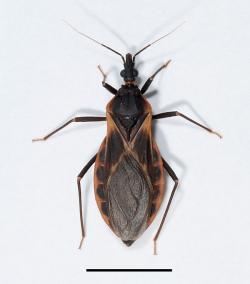 From KRQE News...There's a new bug in town - a bug experts warn could be dangerous. Scientists say more than half of the kissing bugs in southeast New Mexico tested positive for the parasite that carries Chagas disease which has been deadly in other parts of the world. "If you're being bit by a kissing bug, there is about a 50 percent chance that bug has the protozoan in it and it could potentially be leaving the protozoan on you," said New Mexico State University Entomologist Jane Pierce. The protozoan is what causes Chagas disease which causes flu-like symptoms and, in some cases, death. Pierce, along with the University of New Mexico Medical Center, has been researching the insect and its likelihood of carrying the disease throughout the state since 2010. "We're finding that about half of the bugs that are here in southeast New Mexico are infected with the protozoan," said Pierce. The last study completed in the 1960s showed only 4 percent of the kissing bugs in New Mexico carried the disease. Pierce's study shows 59 percent of the bugs in the southeast region of the state are now infected, meaning the likelihood of an animal or person coming into contact with the disease has increased, too. "For an individual to get it, it's very serious for that individual," said Pierce. "People do die of it. It has a 20 to 30 percent mortality rate." It's estimated that 8 million people in Mexico, South America and Central America are infected by the disease. However, entomologists say there's no reason for New Mexicans to stress about the finding. They say people need to be aware of the possibility that the disease could spread. "If the protozoan is not in the insect, you're not going to catch the disease. Just like if you have mosquitoes that don't have West Nile virus, you don't have to worry about West Nile," said Pierce. Scientists say they're not sure what's causing more insects to be infected with the disease. Pierce says there have only been seven human cases where entomologists know the person contracted the disease from an insect in the United States. Of those seven cases, four of them were in Texas. Click here to view the KRQE News Story on this subject. Contact: Jane Pierce
November
Managing Compaction in Agricultural Soils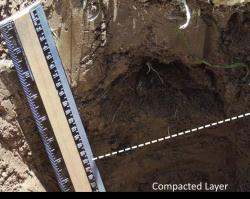 Soil compaction can be a great challenge in agricultural fields and can lead to yield reductions depending on soil and the type of crop grown. Soil compaction occurs when soil particles are compressed together, especially in a wet soil, and this can lead to the destruction of soil structure, reduction in porosity, and a dense soil layer, hard for crop roots and water to penetrate. Changes in agricultural practices, such as increased number of field operations and larger equipment, have made soil compaction problems more common in many fields across New Mexico. Understanding soil's physical components will help you understand how compaction affects the soil. A new publication has been released that discusses strategies that producers can use to avoid or address soil compaction issues on the farm. Please refer to Circular 672: Understanding and Managing Soil Compaction in Agricultural Fields, to learn about different types of soil compaction, and how to prevent, measure and manage soil compaction in a field. Contact: John Idowu
NMSU Experts Speak at Turfgrass Event November 12-14 in Ruidoso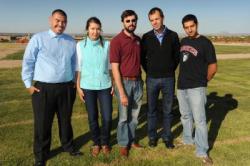 New Mexico State University's turfgrass experts will host the Program Southwest Turfgrass Association Recreational Landscape Conference and Expo in Ruidoso. Bernd Leinauer, professor and turfgrass Extension specialist, along with Natalie Goldberg, department head of the Extension Plant Sciences Department, who serve on the board of directors of the Southwest Turfgrass Association, will be joined by other experts in the two-day conference Nov. 12-14 in the Ruidoso Convention Center.
Some of the topics that will be covered this year include "Selecting, Testing and Constructing Sports Turf Root Zones" and "Portable Roadways: Protecting Turf During Other Events" presented by Jason Henderson, a professor at the University of Connecticut. Jim Brosnan, professor the University of Tennessee, will talk about "Indicator Weeds: Revealing Management Weaknesses" and "Weed Control Programs for Sports Turf." Goldberg, from NMSU, will give a presentation on "Common Tree Diseases in New Mexico." John Sorochan, co-Director for the Center for Athletic Field Safety at the University of Tennessee, will be the keynote speaker and will talk about natural and synthetic turf for sports fields.
"Our goal is to inform and update all grounds maintenance personnel, administrators and city officials, on latest findings and recent developments in the area of turfgrass and landscape maintenance," Leinauer said. The event is open to the public for a fee, which varies in price depending how many days attendees will participate or if they qualify for a corporate or single rate. The fee covers a show, lunch, coffee and snacks. Online registration can be accessed at the Southwest Turfgrass Association webpage, and on-site registration is available as well. That webpage also provides a detailed schedule of the presentations and activities. "The conference includes a trade show where you can see and learn about the latest products for landscape maintenance," Leinauer said. "The conference also offers CEUs and provides opportunities to learn, network and share ideas." The Southwest Turfgrass Association conference is in its 18th year, providing seminars and uniting experts from NMSU's Extension services with industry professionals. The proceeds from the conference support NMSU's graduate and undergraduate turfgrass research. Contact: Bernd Leinauer
State Small Farms Urban Horticulturalist, Joran Viers, Begins New Position November 1, 2013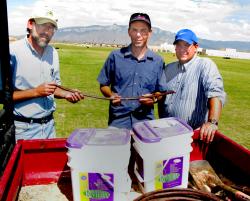 The Extension Plant Sciences Department is pleased to welcome Mr. Joran Viers to their faculty. Mr. Viers, the State Small Farms Urban Horticulturalist, begins his new duties in the Extension Plant Sciences Department on November 1, 2013. In this new position, Joran will be responsible for statewide programming in the area of small farms urban horticulture. His program area will include both food crops and urban landscapes. He will work closely with county extension agents to develop extension programs for small farms and urban clientele and will work closely with issues facing farmers in urban environments. In this position, he will present information at extension workshops and conferences, write extension publications, develop web-based resources, provide timely news items for county agents and mass media outlets, and conduct demonstrations for small farms and landscapes.
Joran most recently served as the county program director and agriculture agent with the Bernalillo County Cooperative Extension Service, and is a native of that county, though he did not grow up there. Joran returned to New Mexico in 1989 to attend UNM, from where he graduated (summa cum laude) with a degree in Biology and an emphasis in plant ecology. After completing a Master's Degree from the University of Florida's Botany Department (again with an emphasis in plant ecology), he worked for two years as the Garden Manager for the UF Horticulture Department's Organic Gardening Research and Education Park. In 1996 he returned to Albuquerque, and was soon serving as the Agency Director for the New Mexico Organic Commodity Commission. Joran left this position after six years and began his Extension Service career in 2003 as the horticulture agent. His areas of technical expertise are in small-scale sustainable agriculture, landscape tree and shrub issues (he is a Certified Arborist), home gardening, insect and plant identification, and site diagnostics.
Mr. Viers will be housed at the Los Lunas Agricultural Science Center. Contact: Natalie Goldberg or Joran Viers
Jujube Grafting Video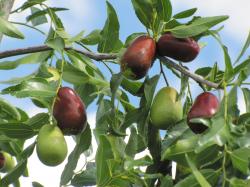 Dr. Shengrui Yao, New Mexico State University Extension fruit tree specialist, demonstrates how to graft jujube trees with either the bark or whip and tongue grafting methods. Contact: Shengrui Yao
October
Pesticide Applicator Workshop Series 2013-2014
Pesticide Applicator Workshop Series 2013 - 2014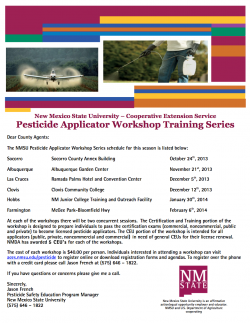 Dear County Agents:
The NMSU Pesticide Applicator Workshop Series schedule for this season is listed below:
Socorro - Socorro County Annex Building - October 24th, 2013

Albuquerque - Albuquerque Garden Center - November 21st, 2013

Las Cruces - Ramada Palms Hotel and Convention Center - December 5th, 2013

Clovis - Clovis Community College - December 12th, 2013

Hobbs - NM Junior College Training and Outreach Facility - January 30th, 2014

Farmington - McGee Park-Bloomfield Hwy - February 6th, 2014
At each of the workshops there will be two concurrent sessions. The Certification and Training portion of the workshop is designed to prepare individuals to pass the certification exams (commercial, noncommercial, public and private) to become licensed pesticide applicators. The CEU portion of the workshop is intended for all applicators (public, private, noncommercial and commercial) in need of general CEUs for their license renewal. NMDA has awarded 5 CEU's for each of the workshops. The cost of each workshop is $40.00 per person. Individuals interested in attending a workshop can visit Pesticide Applicator Training Webpage to register online or download registration forms and agendas. To register over the phone with a credit card please call Jason French at (575) 646 1822.
If you have questions or concerns please give me a call.
Sincerely, Jason French Pesticide Safety Education Program Manager New Mexico State University (575) 646 1822
Bacterial Leaf Spot Affecting Pumpkins Statewide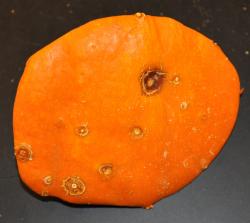 Over the past month, the New Mexico State University Plant Diagnostic Clinic has received several pumpkin samples with classic symptoms of bacterial leaf spot. This disease was identified last year in one county in NM. So far this year, three counties - Luna, Curry and San Juan - are positive for the disease. Symptomatic fruit exhibits small, round, slightly sunken spots with tan to beige centers. Overtime, spots enlarge, becoming noticeably sunken, and the rind cracks in the center of the lesion. Inside, the flesh is rotted all the way to the seed cavity. When cultured for disease agents, pure cultures of Xanthomonas campestris pv. cucurbitae, the causal agent of bacterial leaf spot, has been isolated from all symptomatic fruit. This disease causes sporadic losses in cucurbit crops grown in temperate climates. Disease occurs when warm, humid conditions are persistent. The disease attacks a number of different hosts including pumpkin, cucumber, gourds, and summer and winter squash. More information about this disease can be obtained from the Bacterial Leaf Spot of Cucurbits Factsheet. Contact: Natalie Goldberg
September
Fairy Ring Disease in Lawns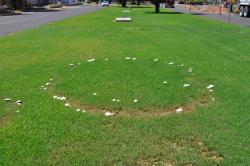 Finally! Rain! Oh, how badly New Mexico needs rain. But with the good....well, you know, can come the bad. Heavy September rains have created a perfect environment for mushroom forming fungi. Some of them are harmless - interesting (or scary) looking - and some of them are plant disease causing agents, such as the fairy ring fungi. Fairy ring is a disease of turfgrass, which can result in rings of dead grass, and under conditions of significant moisture, produces mushrooms, toadstools or puffballs in circles. The disease can be caused by several different species of soil-inhabiting fungi in the fungal group (class) known as basidiomycetes. All grass species are susceptible to this disease.
Symptoms of fairy ring are variable depending on the fungal species, soil type, condition of the grass, and the environment, but generally consist of circles or semi-circles in the affected turf area. The disease may appear as circles, rings or arcs of dark green, faster growing grass. The grass inside the rings may die-out leaving dead areas surrounded by dark green growth or the rings may develop with no dead grass (surrounded by normal colored grass). Conversely, some fairy ring fungi result in circles or arcs of dead grass surrounded by apparently healthy grass. Rings can vary in size during the year and can appear or disappear throughout the growing season. The rings may be surrounded by mushrooms, toadstools, or puffballs which are fruiting bodies of these fungi. In some cases, rings of fruiting bodies may develop with no visible effect on the grass. These fruiting bodies are excellent signs of the fungi and can be used as a diagnostic tool. Weed invasion into affected areas is common due to the lack of competition from healthy grass. Some fairy ring fungi cause a hardened hydrophobic (water repellant) layer to develop resulting in turf areas that are difficult to water. Check out the Fairy Ring Factsheet for more information on this disease. Contact: Natalie Goldberg
Heavy Summer Rain Creates Perfect Conditions for Stinkhorn Fungus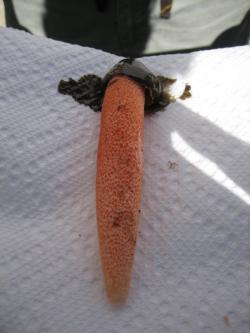 What a surprise! Visit your garden and see this ominous, stinky, weird looking mushroom. Alarming? It could be. Until you know what it is....this mushroom is the fruiting body of Mutinus elegans, a fungus commonly known as the elegant stinkhorn, the headless stinkhorn, or the devil's dipstick (Mutinus caninus, the dog stinkhorn, is a very similar species). Colorful? Yes, in both appearance and name! This saprophyte is harmless to plants, but can be a shocking discovery in your garden. This fungus is typically found growing on the ground by itself or in small groups on woody debris or leaf litter, during summer and fall. It likes rich soils and plenty of moisture. In North America, it is most common east of the Rocky Mountains, but is occasionally found in the Western U.S.
The fruiting body begins its development in an "egg" form, resembling a "puffball" partially submerged in the ground. As the fruiting body matures, a slender orange to pink colored stalk emerges that tapers evenly to a pointed tip. The stalk is covered with a foul-smelling slimy green spore mass on the upper third of its length. Insects, particularly flies, feed upon the slime which contains the spores. The spores adhere to the insect's body and the insect serves as a vector (disseminating agent) to move spores from one location to another. Due to their repellent odor, mature specimens are not edible. In the laboratory, Mutinus elegans has been shown to inhibit the growth of several microorganisms that can be pathogenic to humans. Contact: Natalie Goldberg
Managing Last Cuts of Alfalfa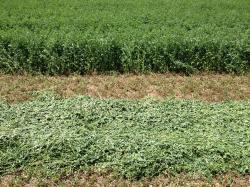 As the alfalfa growing season starts to wind down, it is important for growers to understand how the last cuttings of their stands may affect winter survival and yields in subsequent years. Some growers may choose to have a frequent cutting interval during spring and summer in order to maximize forage quality of the hay. Others may choose to wait a little longer (up to 25% flower) between cuttings to increase yields and improve stand persistence and longevity. Further still, many growers in New Mexico in 2013 were at the mercy of shortened water supplies and harvest timing was dictated by the availability or lack of water. Regardless of how the alfalfa stands were managed throughout spring and summer, proper fall management is critical for future productivity. Alfalfa must build energy reserves in its roots prior to going into the winter, and cutting at frequent intervals and at certain times in the fall can reduce plant persistence and yield the following spring. A longer interval should be allowed between late season cuttings for root reserve accumulation. In fall, two approaches should be taken: 1) alfalfa may be cut so early that enough regrowth occurs to replenish root carbohydrate reserves prior to first frost (in this case, a late cutting may occur at or just after a dormancy-inducing frost which means little or no regrowth or 'waste' of stored carbohydrates will occur) and / or 2) it should be cut so late that regrowth is minimal enough to not exhaust root reserves before freezing. The 6 weeks leading up to first frost is critical to plant survival. General recommendations for fall management are to let plants rest for 6 to 8 weeks between the last regular harvest and the first freeze (27 F for 4 hrs). That is, producers should schedule their next-to-last cutting about 7 weeks before the average first hard freeze. Then they should plan to harvest or graze the regrowth after 6 weeks have passed. If a hard freeze occurs within this 6-week window, the alfalfa should be harvested as soon as possible, even if temperatures are still freezing, to avoid leaf loss. The detrimental effect of a fall harvesting is lessened if regular cuttings earlier in the year are less frequent. Alfalfa producers thinking of making a late harvest should consider their need for extra forage and market demand contrasted with the possible risk of losing part of the alfalfa stand due to winterkill as a result of poor timing of last cuts. In areas where winter temperatures may warm enough to break dormancy, alfalfa may grow only to get shut down by a subsequent freeze and this, too, wastes stored carbohydrates and is a reason to be especially cautious about planting less dormant alfalfas in marginal areas of the state - even if they are winter hardy - because this process is not desirable for the alfalfa stand. In contrast, if winter growth is minimal (e.g., few leaves) then there could be some energy storage to help minimize the drain on energy reserves. Factors that increase the risk of winter injury are: stand older than 3 yrs, variety with too high of a 'fall dormancy (FD)' number for the location, low soil fertility - particularly potassium (K), poor soil drainage / excessively wet soil, fall harvest without a 6-7 week rest period between the last two cuts or last cut and hard freeze.
If 6 weeks or more of growth has accumulated and freezing temperatures (< 27 F) are forecast, then the alfalfa should be harvested via swathing / baling, greenchop, or grazing prior to the freeze event. This will preserve the quality of the forage and provide economic return, while potentially reducing incidence of alfalfa weevil in the spring. If cut for hay, it should be baled as soon as it is cured. If the alfalfa did not get the 6-week fall rest period prior to freeze, standing forage can be cut or grazed as soon as possible even if still frozen to preserve as much as possible of the quality. Then producers should allow the alfalfa to reach at least 25% bloom in the following spring prior to taking the first cut. Additional stresses put on alfalfa during the growing season, such as drought stress due to little or no irrigation supplies, will only exacerbate the subsequent negative impacts of poor fall management.
For more information, see Circular 644: Assessing Alfalfa Stands After Winter Injury or contact your local county extension agent. Contact: Mark Marsalis
Pest Alert: Walnut Caterpillar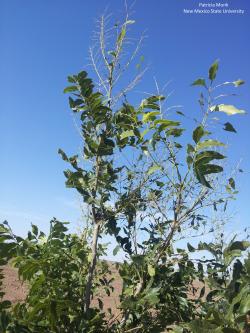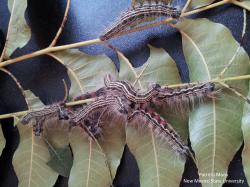 Higher than usual numbers of walnut caterpillar are being found in SE New Mexico along with less surprising aphids. Walnut caterpillar is usually an uncommon pest and easily controlled but homeowners, in particular, may be unfamiliar with this pest. Walnut caterpillar larvae feed on a number of species of trees but our primary concern is pecan. The larvae are now in their second generation and approaching a size where damage will be more apparent. Larvae are gregarious or found in groups. As young larvae they feed only on tender leaf tissue, skeletonizing the leaves. Older larvae can feed more extensively and can consume all but the leaf petiole. Larvae have yellowish longitudinal stripes and long white tufts of hair. The body is reddish when small but larger larvae are black. Growers and homeowners may note cast skins from molting on the tree trunk or branches or fecal matter on the ground with heavy populations. Parasite, predators, diseases will help control walnut caterpillar populations. Low relative humidity reduces egg hatch normally and is part of the reason why they are not a routine pest. In other more humid areas of the country they are a more regular occurrence. Walnut caterpillars are not difficult to control with insecticides but homeowners may prefer to prune off the affected branches and destroy the larvae. They can be easily killed by placing them into a bucket of soapy water or freezing. Although the populations we are seeing now are not often economically damaging, outbreaks generally last a few years and suppression of this population could help minimize damage next year. Contact: Jane Pierce
August
Registered Herbicides for Permanent Grass Pasture & Hay Fields in New Mexico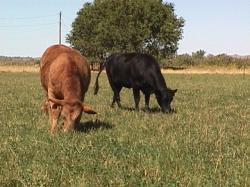 Weeds can reduce the quality and the stand life of desirable plants in pastures and hay fields. Certain weed species also can be poisonous to grazing animals. Therefore, it is desirable to initiate weed management strategies that reduce the impact of weeds on forage production. Good pasture management begins with site preparation. Weed management during site preparation is critical since after planting the desirable pasture species weed control options can be limited depending on the species that are planted. Good pasture management throughout the life of the pasture is critical for the prevention and control of weed infestations. In fact, encountering weed problems during establishment or in established pastures, if proper weed management has been employed during site preparation, could be as a result improper pasture management. Problems can result from improper grazing methods, clipping, fertilization, forage species selection, and irrigation. Well-managed pastures require less direct action to manage weeds, since healthy and well-established forage plants are more likely to prevent weed invasions.
In some situations, in spite of a producer's best pasture management efforts, herbicides are needed for weed management. In those situations, the quality of pastures could be substantially improved with a well-planned herbicide program. Click here for a Registered Herbicides in NM List available to effectively manage weeds in pasture and hay fields in New Mexico. Contact: Jamshid Ashigh or Leonard Lauriault
Dodder, a Parasitic Weed, is Appearing Across the State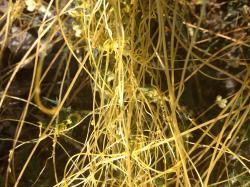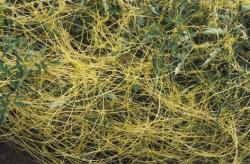 Environmental conditions across the state are perfect for the parasitic weed, dodder, to germinate and grow. This parasite does not have leaves and cannot produce chlorophyll. As such, it grows on other plants, using them for water, nutrients, and carbohydrates. It is common along road sides, but can also grow on crop and landscape plants. In the spring, dodder seeds germinate near the soil surface and send up slender, thread-like twining stems varying in color from pale green to yellow or orange and without any cotyledons (seed leaves). The slender, leafless, thread-like stem sways or rotates slowly until it touches the stem or leaf of another plant and begins to wind around it. On a host plant, the dodder stem will immediately form small appendages called haustoria (tiny sucker-like roots), which penetrate the stems or leaves so that dodder can extract its necessary growth requirements. Soon after attaching to a host plant, the lower end of the dodder withers and breaks its connection with the ground, while the upper part of the stem grows rapidly, often forming dense stringy masses. However, if the dodder seedlings are unable to contact a susceptible host plant soon after germination, they will not survive. The damage of dodder to the host plant varies from moderate to severe depending on the growth of the host plant and on the number of haustoria attachments to the host plant. Dodder infestations reduce crop yield and increase harvesting costs for crops like alfalfa. For more information, please see the Extension publication Dodder (Cuscuta spp.), Biology and Management. Contact: Natalie Goldberg or Jamshid Ashigh
Reducing Harvest & Post-Harvest Losses of Alfalfa & other Hay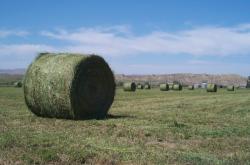 Getting good quality hay is not limited only to providing good growing conditions. In addition to providing optimal growing conditions, harvesting and storage of hay are also important for the delivery of high quality hay crops that can fetch good market prices. Most of New Mexico has plenty of sun and low humidity for rapid and good hay curing conditions. However, there are particular times of the year, for example during the monsoon season of July and August, when haymaking can be a challenge. Rapid drying is important for minimizing losses and maintaining nutritive value. The drying rate of alfalfa depends on environmental conditions such as solar radiation, temperature, relative humidity, soil moisture, and wind velocity. Improper handling of alfalfa hay during harvest and storage can lead up to 21% losses in yield and quality. A new publication, Circular 668: Reducing Harvest Losses focusing on reducing harvest and post-harvest losses of alfalfa and other hay has been released. Through this publication, hay producers can learn how to guard against dry matter and quality losses of their hay crops during and after harvest. Contact: John Idowu
July
Bacterial Leaf Scorch Evident on Chitalpa Trees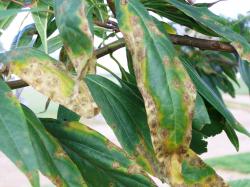 The Heat of Summer brings on Symptoms of Bacterial Leaf Scorch Symptoms on Chitalpa - Chitalpa trees (a hybrid between catalpa and desert willow) are susceptible to a xylem-limited bacterium called Xylella fastidiosa. The bacterium invades the plant and plugs up the water conducting vessels, known as the xylem vessels, making it difficult for the plant to get enough water to the leaves. The result on the plant is symptoms of water and nutrient stress - chlorosis and leaf scorch. Other symptoms include leaf spotting, small leaves, thin canopy, branch dieback, and eventually, tree death. This disease was first discovered in New Mexico in 2006. The disease was also confirmed in grapes the same year. In grapes, the disease is known as Pierce's Disease. In 2010, the disease was also confirmed in catalpa and peach.
The disease is transmitted from one plant to another through xylem-feeding insects, most notably sharpshooters. While New Mexico has some native sharpshooters, the most efficient vectors for Xylella, the glassy-winged sharpshooter and the smoke-tree sharpshooter, are not known to occur. Still, research at New Mexico State University has shown that the bacterium is nearly identical in chitalpa, grape and catalpa. This indicates transmission, probably by native sharpshooters, between these hosts. Research has also shown that nearly all chitalpa trees are infected with this bacterium. The disease is particularly common in chitalpa because this hybrid is vegetatively propagated. When an infected mother plant is used for cuttings, the newly propagated plants will be infected.
Unfortunately, there is no cure for plants infected with the bacterium. Reducing plant stress by making sure the plants are adequately watered and fertilized will help to reduce the impact of the disease on the plant and may prolong the life of infected trees. Pruning out dead and dying limbs will also help to improve the appearance of the plant. Ultimately, however, infected plants will become unsightly and will die if they are not removed from the landscape. Click here for more Bacterial Leaf Scorch Photos of this disease. Click here to view a Xylella Fastidiosa Presentation on this disease. Contact: Natalie Goldberg
Growers in SE New Mexico Advised to Scout for Cutworms after Recent Rain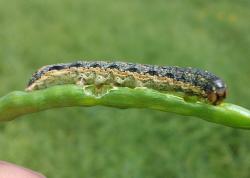 Growers in Southeastern New Mexico are being advised to scout hay now for cutworms. Recent cool, wet weather might cause higher than usual survival of cutworms. Three years ago similar weather resulted in a severe outbreak south of Carlsbad.
Jane Pierce entomologist at the Agricultural Science Center in Artesia said that she is getting an average of 10 adult variegated cutworms per night in pheromone traps at the Agricultural Science Center farm and commercial fields. The biggest issue is survival. Usually in mid-July we don't have a problem with cutworm because the eggs hatch rates are so low due to high temperature s and low relative humidity. Most cutworm eggs desiccate in the summer and those that don't, get picked off by predators. We have to be more careful when we have cooler, wetter weather in July because there is a higher chance that they will survive.
Growers can look for cutworms feeding on hay at dusk or dawn when they are active since they hide in cracks or crevices or under debris during the day. In newly cut fields they can easily look for cutworms under hay tags. During the day the most accurate sample requires digging at least 1 inch of soil near crowns in 4-5 locations per field. Since cutworm larvae often initially develop in weeds, growers can also work on keeping fields and borders weed free to reduce populations. Staggering cutting of hay among fields when possible so that there is always some standing hay will also help maintain populations of beneficial arthropod predators to help control cutworm populations. Typically we have high populations of beneficial arthropods that help keep these types of pests under control, but when hay is cut over a wide area there is nowhere for the predators to go and the heat then also kills them. It's best to get out there over the next few days when it is not hard to control them with insecticides. This is a controllable pest as long as it is controlled when larvae are young. Contact: Jane Pierce
NMSU's Extension Plant Sciences Department will bring Plant Clinics to Farmers' Markets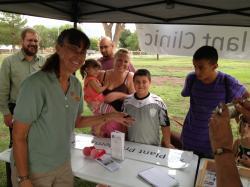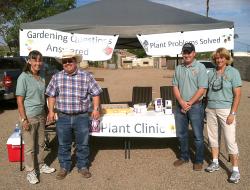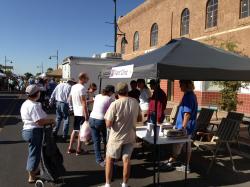 New Mexico State University's Extension Plant Sciences department will host a Plant Clinic at several farmers' markets this summer, beginning July 13 in Las Cruces, to help educate the community about horticultural practices and pest management, including identification of insect, weed, and disease problems.
"We encourage anyone who is interested in gardening and has a question that they have not been able to get answered, to come out and visit with us," said Natalie Goldberg, department head of NMSU's Extension Plant Sciences. "If they have problem plants or pests that they would like to identify, they are encouraged to bring us a sample of the plant or pest."
The question-and-answer sessions will be hosted by three specialists: Carol Sutherland, entomologist; Jason French, an expert on plant disease and diagnostics; and Goldberg, who is an expert on plant diseases and disorders. In addition, the county Extension agent will be available to help answer questions about horticulture.
"Some problems people bring to the clinic might be resolved on the spot, but others might need more background information to complete an answer, so we'll make sure we have the client's contact information and specific question written down so we can contact them later," said Sutherland, who will have a collection of insects on display for additional questions.
Goldberg added they hope to answer most questions but if they can't, they will either take back samples for further research or connect clients with other experts.
"Plant Clinics are a great way to interact with people not familiar with the great variety of information available through the Cooperative Extension Service," Sutherland said.
Plant Clinic schedule:
July 13, Las Cruces, Las Cruces Farmers' Market, 8 to 10 a.m.
July 24, Deming, Copper Street Farmers' Market, 8 to 10 a.m.
July 24, Alamogordo, Alameda Park Farmers' Market, 5 to 7 p.m.
July 31, Taos, Taos Pueblo Red Willow Farmers' Market, 10 to noon
July 31, Albuquerque, Cedar Crest Farmers' Market, 3 to 5 p.m.
Aug. 1, Los Alamos, Los Alamos Farmers' Market, 7 to 9 a.m.
For more information on the Plant Clinics, contact Natalie Goldberg
June
Registered Herbicides for Chile Peppers in New Mexico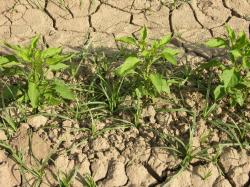 Weed management in chile production is an important practice that requires careful planning. Chile peppers emerge slowly from the soil and continue to grow slowly, making them more susceptible to competition from weeds for sunlight, nutrients, water, and space. Weeds also serve as alternate hosts for other pests, including nematodes, insects, and viruses. For example, yellow and purple nutsedge (Cyperus esculentus and C. rotundus) serve as alternate hosts for root-knot nematodes, and London rocket (Sisymbrium irio) serves as an overwintering host for curly top virus. Therefore, weed management strategies in chile peppers must include proactive actions including timely monitoring of the fields throughout the season to prevent further infestations of the fields.
Click here for more information on Registered Herbicides for Chile Peppers for chile peppers in the state that can help with your weed management. For more information, please see NMSU Extension Circular 548: Weed Management in Chile. Contact: Jamshid Ashigh or Stephanie Walker
Update on Strawberry Research at the Alcalde Sustainable Agriculture Science Center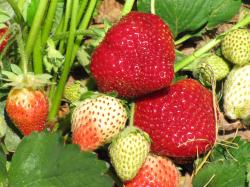 Now, we are close the end of the strawberry harvest season and I am confident to say that strawberry could be a reasonable alternative crop for northern New Mexico. For those from northern New Mexico, you may still remember the bad week-long frosts around April 20 with 18 F on April 19 at Alcalde and another round of bad frosts around May 3 and 4. We tried hard to protect our tree fruit and strawberries but all our tree crops were gone and also the early flowers of strawberries. But the late flowers of strawberry do compensate for the losses of early blooms and the harvest season in 2013 is delayed. With drip irrigation and a fertilizer program, the top performers Mesabi and Kent have yielded an equivalent of 15,000 -18,000 lb / acre which are similar to the yield of top performers in 2012. Cultivar Mesabi has the highest yield for both 2012 and 2013. We also have cultivars do not produce much, too sensitive with our high pH soils with yellow leaves, or not winter hardy enough in northern New Mexico. Those cultivars are not recommended like Allstar, Chandler, Darselect, Earliglow and Wendy. Strawberries are labor intensive but they do still generate some revenue in years with bad frosts. I am working on the data of this strawberry trial and hopefully by the end of this year or early in 2014, there will be an extension publication about strawberry production ready for the public. Click here for a the NMSU Studies Strawberries article on this subject. Contact: Shengrui Yao
Flea Beetle Clouds in Pecos Valley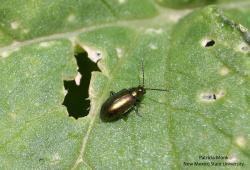 Drought and unusual spring weather are impacting insect populations in the Pecos Valley. Spring weather was characterized by very late freezes and extremes differences in daily high / low temperatures. This type of situation often causes extremes in insect populations. In the last few days homeowners and growers have reported extremely high numbers of flea beetles in a variety of crops in the Pecos Valley. Vegetables and grapes seem to have been hit particularly hard. Some growers have reported clouds of flea beetles flying up as tractors drive down rows in pecan orchards but the beetles, fortunately, are not feeding on pecan, only on the weeds below. Damage (illustrated) is typically shot holes in the foliage. Most established plants can tolerate significant loss of foliage so some homeowners may choose to tolerate some damage but seeding plants can be killed by this feeding.
There are a number of species of flea beetles that are being found in unprecedented numbers. The most common one is large for a flea beetle, iridescent greenish bronze and approximately 0.2 inches. It is not uncommon in the Pecos Valley but has not generally considered a problem. Usually these types of flea beetles are very specific in their taste, and will only feed on one or two types of plants, for example just tomatoes and potatoes which are closely related. The drought and unusual spring weather seems to have changed their normal behavior as they search for food and moisture. They might not be able to survive long on some of the plants that are not their usual hosts but with the huge numbers we have, there might be time to do some damage even if they are only out there for a few days. Flea beetles can be identified by their propensity to jump and a large 'thigh' on their hind leg, suitable for jumping. They are also fairly good fliers and are moving readily between fields.
Weather may have affected other insects as well. Alfalfa weevil numbers in the Pecos Valley are the lowest we have recorded in over 17 years. Only recently have numbers started to increase. This is a time when we normally see weevil populations fall off. One of the good outcomes of this unusual weather is that pecan nut casebearer populations have been extremely low, which is also likely due to this spring's unusual weather and perhaps the drought. Some growers are just now treating for pecan nut casebearer but others haven't needed to treat at all. In limited sampling, populations of beneficial predaceous arthropods (ladybugs, nabids, spiders, minute pirate bug, big eyed bug, green lacewing etc) appear relatively normal. Contact: Jane Pierce
May
Iron Chlorosis Takes its Toll on Landscape Plants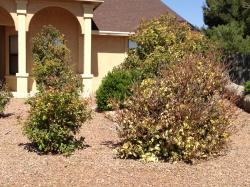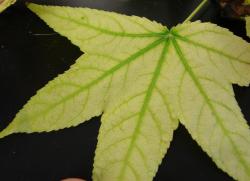 Iron chlorosis takes its toll on landscape plants - It seems early for the 'dog days of summer,' but already, many of our landscape plants are showing symptoms of environmental stresses common during the hot, dry summers. One of the most common landscape disorders in New Mexico is iron deficiency, also called iron chlorosis. Iron deficiency symptoms typically begin in spring when the plants are leafing out. As summer progresses, untreated plants may exhibit severe symptoms and have an overall unthrifty appearance. Samples from these plants are often submitted to the NMSU Plant Diagnostic Clinic because growers are concerned that there is a disease agent involved. In most cases, the plants are suffering only from iron deficiency either by itself or combined with other environmental stresses, such as water stress, hot drying winds, and other nutrient deficiencies.
Iron Deficiency is one of the most common nutrient deficiencies in all sorts of landscape plants. Some of the most commonly submitted plants for diagnosis include: Photinia, willows, mulberry, maples, sycamore, Poplars, roses, apples, pears, Hawthorne, stone fruits and pecan. Iron is a critical element for good growth and green color. Iron may be plentiful in the soil, but it is tightly bound to the soil particles in high pH (alkaline and calcareous) soils. Under these conditions, the iron is unavailable for plant use. The classic symptom of iron deficiency is interveinal chlorosis where the leaf turns yellow and the veins remain green (Fig. 1). In very severe cases, leaves may turn white in color or develop necrotic spots, which can look like a fungal infection, on the affected leaves. Over time, plants which remain untreated will start to dieback (Fig. 2), become unsightly in appearance and may eventually die. Contact: Natalie Goldberg or Jason French
Fungal Diseases on Roses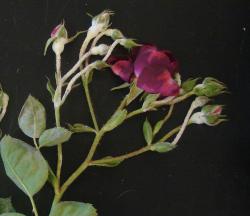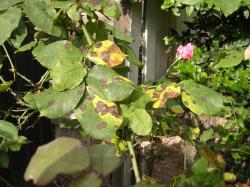 Fungal diseases on roses begin as spring turns to summer - Roses, one of the most common landscape flowering shrubs, can be beautiful with lush green foliage and brightly colored flowers. Unfortunately, they are also vulnerable to a couple of very common fungal diseases, powdery mildew and black spot, which can turn plants slightly in a short period of time. Black spot is specific roses, but powdery mildew can occur on a wide range of landscape plants. As such, you may see disease on your roses, bedding plants, and turfgrass all at the same time. The specific fungus causing disease on each of these plants is actually a different fungal species, but the environmental conditions that favor disease is similar and plants may become infected at the same time of year.
Black spot requires leaves to be wet for several hours in order for spore germination and infection to begin. Secondary spread of the disease occurs when spores are splashed from infected leaves to uninfected leaves by rain or sprinkler irrigation. Powdery mildew, on the other hand, doesn't require free water on the leaf surface, but does require high humidity for spore germination and infection. Cultural practices reduce leaf wetness and humidity can be helpful in managing these diseases. For example, it is best to avoid wetting the leaves when irrigating. If this isn't possible, then plants should be watered early in the day so that the leaves dry quickly. Additionally, planting in sunny locations with good air circulation, avoiding overcrowding, and selectively pruning plants to open the plant canopy, will help reduce disease. When planting new roses, select disease resistant cultivars. Good fall sanitation practices are also important for an overall disease management program - rake and destroy fallen leaves (do not compost diseased plant material) and prune out infected canes. Lastly, many fungicides are available to help control these diseases. For best results, use early in the disease cycle before symptoms are too widespread or severe and be sure to completely cover the plant including the upper and lower leave surfaces. Contact: Natalie Goldberg
Soil Health Management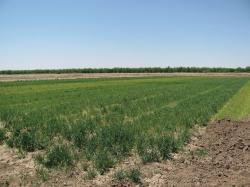 Understanding how to manage the soil for sustainable cropping has become more crucial in the face of the recurrent droughts that the New Mexico has been facing. A healthy soil will be more resilient to drought. In order to sustainably manage soil health, attention must be given to all the aspects of the soil rather than focusing only on soil nutrient sufficiency. A new publication, Guide A-148: Understanding Soil Health, highlights various aspects of soil health that producers need to be aware of and also discusses the need to manage production fields for soil health improvement and environmental conservation. Strategies that farmers can use to improve the health of their soils are highlighted in this publication. Contact: John Idowu
April
Loose Smut of Wheat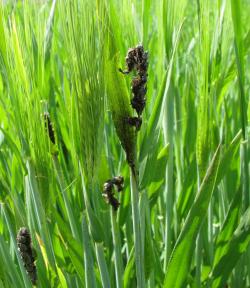 Loose smut of wheat diagnosed in wheat fields in New Mexico - Have you seen dark black seed heads on your wheat? If so, your plants may be infected with the fungus, Ustilago tritici. The disease is commonly referred to as loose smut of wheat. This disease has been known for centuries and is easy to recognize in the field. Loose smut occurs worldwide. It reduces yield in proportion to the percentage of smutted heads. Although yield losses are usually less than 1%, losses closer to 30% can occur under conditions that are especially favorable for disease development. In contrast to other wheat seed diseases, loose smut has little to no effect on grain quality for food or feed.
The disease appears at heading when dark brown to black, "smutted," seed heads appear among newly emerged, healthy, green heads. Diseased seed heads are converted into a mass of dry, dark brown to black spores. The disease is called loose smut because the spores produced on smutted heads are easily removed by wind and rain. Typically, after a short while, only the bare flower stocks remain. In some cases, the seed head is only partially infected. Prior to heading, diseased plants may have dark green leaves with chlorotic streaks, but this symptom generally goes unnoticed. Seed with no visible symptoms can be infected with the fungus. These asymptomatic seed are fully germinable and serve as primary inoculum for new infections.
The disease is primarily managed by the use of resistant cultivars and pathogen-free seed. Pathogen-free seed can be obtained through hot water or heat treatments or through certified disease-free seed programs. Seed treatment with systemic fungicides can be used to help control the disease in germinating seedlings. More information on loose smut of wheat can be found on the Loose Smut Factsheet. Contact: Natalie Goldberg
Diagnosis of Herbicide Injury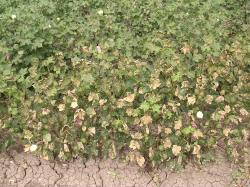 Herbicide injury could be caused by a variety of application, environmental, chemical and plant related factors. In diagnosing herbicide injury one must use a systematic approach to prevent the bias of looking only for the familiar causes and drawing premature conclusions. Symptoms may overlap or appear similar to many other problems (i.e., herbicide look-alike symptoms). Diagnosis of herbicide injury requires a keen, investigative approach combined with careful, time sensitive, observation and the ability to put all the pieces together to reconstruct the event(s) that produced the plant damage. Accurate diagnosis must be made before corrective action can be taken; even if no corrective measures are available, there is satisfaction in simply knowing what caused the problem, which could help avoiding the problem in future practices. It is of outmost importance to start the investigation as early as possible, it is difficult to determine the cause of injury when examining dead and dry plants. Also, photos of developing plant injury can be helpful; one snap shot may not tell the complete story. If a logical conclusion to injury problems may not be possible, do not suggest possible causes (once you tell someone it is herbicide injury you will never change their minds to something else). To draw unbiased and logical conclusions, accurate information is needed and can be gathered from a series of questions and detailed field observations / examinations. Click here for a Diagnosis of Herbicide Injury Checklist of questions / observations that should help you with diagnosis of herbicide injury in plants. Contact: Jamshid Ashigh
Registered Herbicides for Dry Bulb Onions in New Mexico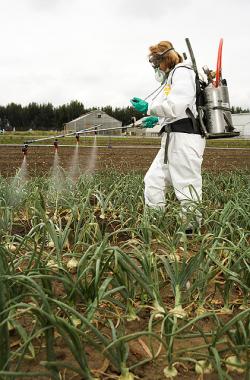 Weeds compete with crops for nutrients, water, and sunlight. Weed competition reduces crop vigor, yield, and quality. In addition, weeds interfere with harvest operations. The magnitude of weed competition and resulting crop loss are related to the timing of weed emergence in relation to crop emergence, the growth form of the weed and crop, and the density of weeds present in the crop. Weeds also serve as alternate hosts for nematodes, diseases, and insects, and during rainy periods they can maintain high humidity around the onion plants, contributing to greater incidence of foliar diseases.
The typical planting arrangement for onions does not permit cultivation close to the plants, and onions do not compete well with weed populations. Weeds emerging late in the season may not affect yield; however, these late-emerging populations may influence disease incidence and harvest. In addition, weeds that are allowed to set seed will increase weed problems in the field in following years. Existing weed seeds in soil usually germinate over a period of years, so the seed that is produced one year will be a problem for a number of following years. Another source of weed seed in southern New Mexico onion fields is surface irrigation water.
During the growing season many of you might receive questions regarding chemical weed control in onions. Attached is the List of Registered Herbicides of currently registered herbicides for dry bulb onions in the state that can help with your weed management recommendations. For more information, please see NMSU Extension Circular 563: Bulb Onion Culture. Contact: Jamshid Ashigh or Stephanie Walker.
March
Now is the time for home fruit growers to think about preventing 'wormy' apples & peaches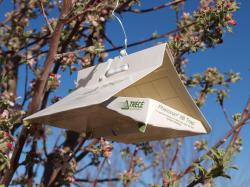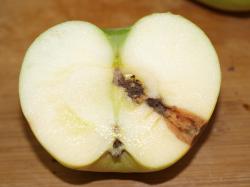 Although the tree-fruit harvest is many months away, now is the time for growers to think about controlling codling moth and peach twig borer. Both pests can complete as many as four generations per year in New Mexico, and although the late-season generations are the most damaging, control measures must be planned well in advance and implemented from early spring onwards if they are to be effective.
The two insects differ somewhat in their life-cycles, particularly earlier in the season. The peach twig borer spends the winter as small larvae inside silken cells ('hibernacula') in cracks and crevices on the rough bark of peach trees. They emerge in early spring and at that time feed inside developing shoots, causing the tips to wilt and die, which can stunt the growth of young trees and reduce their vigor. Later in the season, the adult moths lay their eggs on the developing fruits - usually at the stem end and often just as the fruit starts to show some color. As soon as the eggs hatch, the larvae bore into the fruit, where they are protected from both predators and pesticides.
The codling moth also spends the winter as a larva inside a silken cocoon, for example under rough bark, or in protected areas at the base of the apple trees, in fruit storage areas, or orchard trash piles. In contrast to peach twig borer, however, the codling moth larva is fully grown at the start of winter and pupates and emerges as an adult in early spring (typically early- to mid-April). The newly emerged adult female moths lay their eggs on developing apples in early spring, and the larvae feed inside until they reach maturity. At that point, they leave the fruit to pupate in protected sites on or near the tree. Depending on temperature, each generation takes 3 to 5 weeks to complete their larval development, and the cycle is repeated until the end of the season, with apple damage gradually increasing as the summer progresses. Click here to find out more about Codling Moth and Peach Twig Borers. Contact: Tessa Grasswitz