2016 News You Can Use
Pre-Emergent Herbicide Now Labeled for Cool-Season Grass Pasture & Hay Fields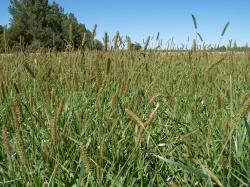 Pre-emergent Herbicide Now Labeled for Cool-Season Grass Pasture & Hay Fields - A new herbicide tool is available for growers of tall fescue, orchardgrass, and other cool-season pasture and hayfield grasses for control of problematic grass and broadleaf weeds. In the past, no pre-emergent herbicides were labeled for weed control in these cropping systems. A supplemental label has now been approved for use of Prowl H2O (pendimethalin; 38.7%; BASF) in 'cool-season forage grasses grown for forage or hay production, or in pastures or rangeland,' as stated by the label. Prowl H2O is not necessarily a new herbicide, but it's labeling has been limited to bermudagrass pastures, ornamental turfgrass, and numerous row and tree crops in the past.
Summer annual grassy weeds such as foxtails, crabgrass, and field sandbur are particularly problematic in perennial tall fescue and orchardgrass forages that are common in New Mexico. There are currently no available post-emergent herbicides labeled for cool-season pastures that can effectively select and control these grassy weeds in a grass pasture. Therefore, the supplemental labeling of this active ingredient in cool-season pasture and hayfields is a good first step in getting a jump start on early-season weed control by killing the weeds as they germinate.
Highlights of the Supplemental Labeling Include:
Labeled for established (6 or more tillers): tall fescue, orchardgrass, timothy, wheatgrass, bluegrass, bromegrass, others grown for forage, green chop, silage, hay production, pasture or rangeland for livestock grazing

Labeled for established mixed stands of cool season grasses and alfalfa (only)

There is NO pre-harvest or pre-grazing interval for Prowl H2O-treated grass forage; mixed stands may be grazed or harvested 14 days or more after application

Must be applied prior to weed germination; fall (after last cutting), winter, spring, in-season between cuttings

Rates: 1.1 to 4.2 quarts per acre in a single application or in sequential applications made 30 days or more apart; no more than 4.2 qts / A applied per year

Should be incorporated into the soil in a perennial grass stand with adequate irrigation or rainfall

May be tank-mixed with other herbicides labeled for cool-season grasses; check compatibility

May cause temporary injury to cool-season grasses when applied to stressed or weakened stands

This is a temporary supplemental label that expires April 30, 2019. Always read the most up-to-date label prior to making an application
Any herbicide should be used as simply one component of an integrated pest management program. A successful weed management program may include combinations of other methods such as cultural and mechanical weed control in addition to herbicide use.
The primary and supplemental labels can be accessed at: CDMS. See full label for additional use requirements and precautions. Directions and recommendations of the primary label (EPA Reg. No. 241-418) are still applicable and must be in possession of the applicator along with supplemental label.
Applicators should be aware that herbicide labels, supplemental labels, and registrations can change at any time. The label is the law! It is the applicator's responsibility to use herbicides according to the directions and recommendations on the current label prior to every application. For more information, please contact: Mark Marsalis or Leslie Beck
Registered Herbicides for Canola in New Mexico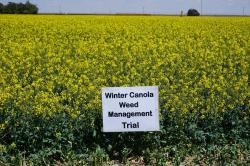 Registered Herbicides for Canola in New Mexico - Canola provides opportunities to diversify farm incomes and improve profitability, while extending rotational benefits to subsequent winter wheat. However, the economic and agroecological benefits of canola are realized only if weeds are sufficiently controlled. Approaches for managing weeds in canola are largely influenced by the variety of canola grown. Herbicide tolerant varieties permit broadcast applications of broad-spectrum herbicides, whereas canola varieties that have not been modified to tolerate to specific herbicides (i.e., "conventional canola") require selective herbicides. Christopher Landau (MS student, Department of Entomology Plant Pathology and Weed Science) has prepared a table of Registered Herbicides For Canola in NM. As part of multi-tactic program that also uses mechanical and / or cultural tactics to suppress weeds, herbicides can reduce the negative consequences of weeds in canola. For more information, please contact: Christopher Landau, Brian Schutte or Sangu Angadi